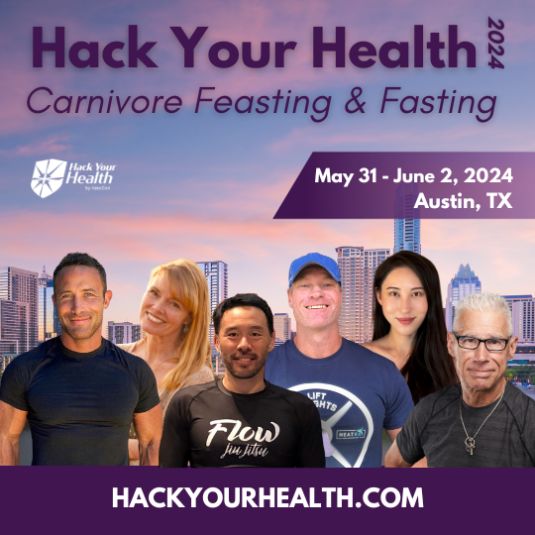 Austin, TX (November 02, 2023)
Hack Your Health 2024 Presents: "Carnivore Feasting and Fasting" Panel
AUSTIN , TX, USA, November 2, 2023 /EINPresswire.com/ — Hack Your Health 2024, the premier event for health enthusiasts, biohackers, and wellness seekers, is thrilled to announce an exciting and informative panel discussion titled "Carnivore Feasting and Fasting." The event features a distinguished lineup of experts and influencers in the field of carnivore nutrition.
The "Carnivore Feasting and Fasting" panel will explore the increasingly popular approach of the carnivore diet, which primarily consists of animal-based foods, and its intersection with fasting protocols. This thought-provoking discussion will shed light on the health benefits, practical applications, and potential challenges of adopting a carnivore lifestyle.
The esteemed panelists for this event include:
Dr. Shawn Baker – Renowned orthopedic surgeon, athlete, and author of The Carnivore Diet. Dr. Baker is a respected expert in the field of nutrition and fasting, Dr. Baker will discuss the integration of fasting principles with the carnivore diet for optimal health.
Dr. Anthony Chaffee – neurosurgeon resident, advocate for the carnivore diet Dr. Chaffee will share his insights on the health benefits of an all-animal-based diet.
Dr. Robert Kiltz – A leading fertility specialist and wellness advocate, Dr. Kiltz will explore the potential impact of the carnivore diet and fasting on reproductive health and overall well-being.
Bella Ma (Steak and Butter Gal) – A popular social media influencer and advocate for the carnivore lifestyle, Bella Ma will share her personal journey and practical tips for thriving on an all-meat diet.
Raymond Nazon – A living testament to the remarkable potential of the carnivore diet and fasting, Raymond will provide valuable insights on optimizing athletic performance through carnivore nutrition.
Emily Harveaux – An inspirational coach whose expertise lies in fasting and the carnivore way of eating, Emily will share her personal success story losing and maintaining a 150 pound weight loss with the carnivore diet and fasting including insights to how the protocol has helped her clients.
This di